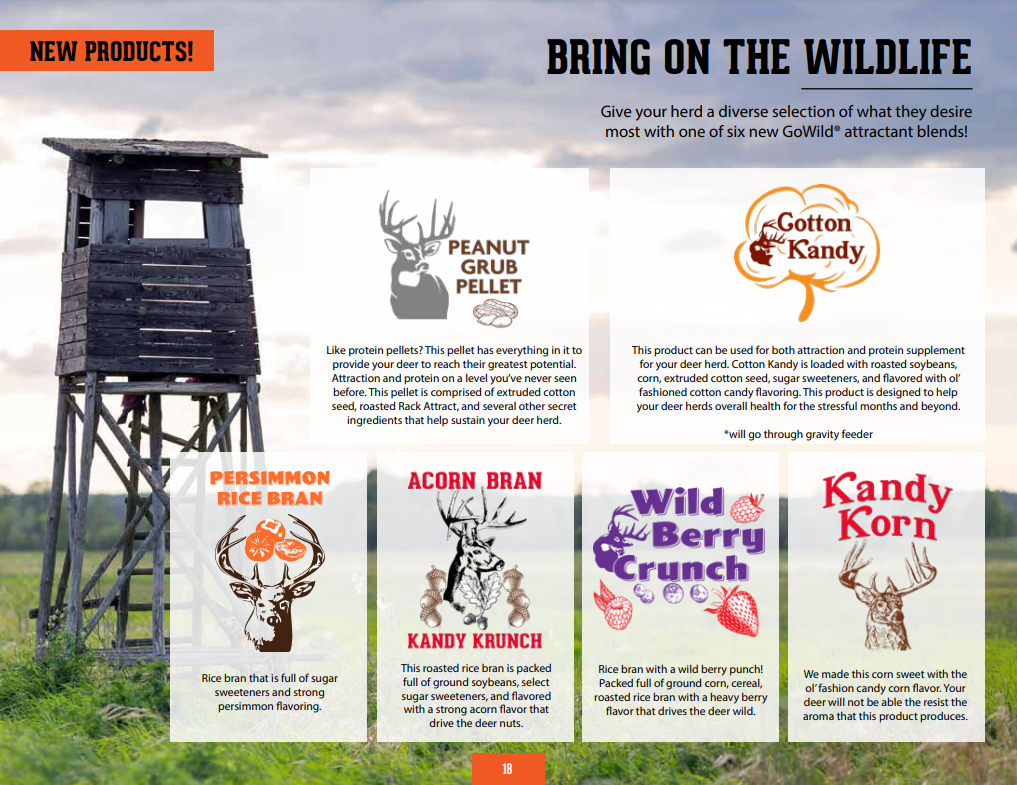 When it comes to sense of smell, a deer's ability falls nothing short of superpowers. They can detect far off predators and fellow deer, but also sniff out food from nearly a half mile away. This of course presents quite a few difficulties for hunters, but also creates opportunities.

Whether you're looking to lure a mature buck within range of your stand or pattern a herd in the off-season, wildlife attractant products can make all the difference. This season, we're introducing 6 new products that pack a potency no whitetail can stay away from.


Our Persimmon Rice Bran is loaded with sweeteners to recreate sultry scents of the fruit that deer have flocked to since prehistoric times. It also provides long lasting energy with its high fat content and helps the growth of healthy antlers with high levels of phosphorus. Top taste and nutrition with no foraging required on your part.

A mix of mouthwatering flavors and nourishing grains, the Wild Berry Crunch blend is both a delicious treat and healthy supplement for your herds. The wild berry scents are picked up from a great distance and will have bucks and does crossing your stand in no time. Not to mention, the ground corn, cereal and roasted rice bran help to sustain the deer, especially when natural forage becomes scarce in colder months.

Acorn Bran Kandy Krunch is packed with roasted rice bran for healthy fats and ground soybeans for protein to help grow and maintain healthy herds. Select sugar sweeteners and a strong acorn flavor come together to create an impossible-to-ignore scent. This blend will not only attract deer to your property, but hold them in the area for extended periods of time.


Kandy Korn is another super sweet concoction that will drive your deer mad. This blend is especially great during winter months as a high-energy source when acorns are harder to come by, but can be used year round. Who can resist that ol' fashioned candy corn flavor?

Cotton Kandy is great as both an attractant and protein supplement for your herd. It's jampacked with roasted soybeans, corn, extruded cotton seed, sugar sweeteners, and that classic cotton candy flavor. This blend was designed to help maintain the overall health of your herds during the more stressful months and beyond. It'll also work just fine with your gravity feeder.

Our Peanut Grub Pellet is made with ingredients to help your deer reach their greatest potential. Attraction and protein on a level you've never seen before. It's made with extruded cotton seed, roasted Rack Attract and several other secret ingredients that provide sustenance and an irresistible scent and flavor profile. The best of attraction and protein for the best of deer.

Whether you're seeking results this week or laying the groundwork for next year, our GoWild blends are here to help you get to the next level.

For more information on Stratton Seed's GoWild® brands, give us a call or contact your local seed rep. We've got you covered.