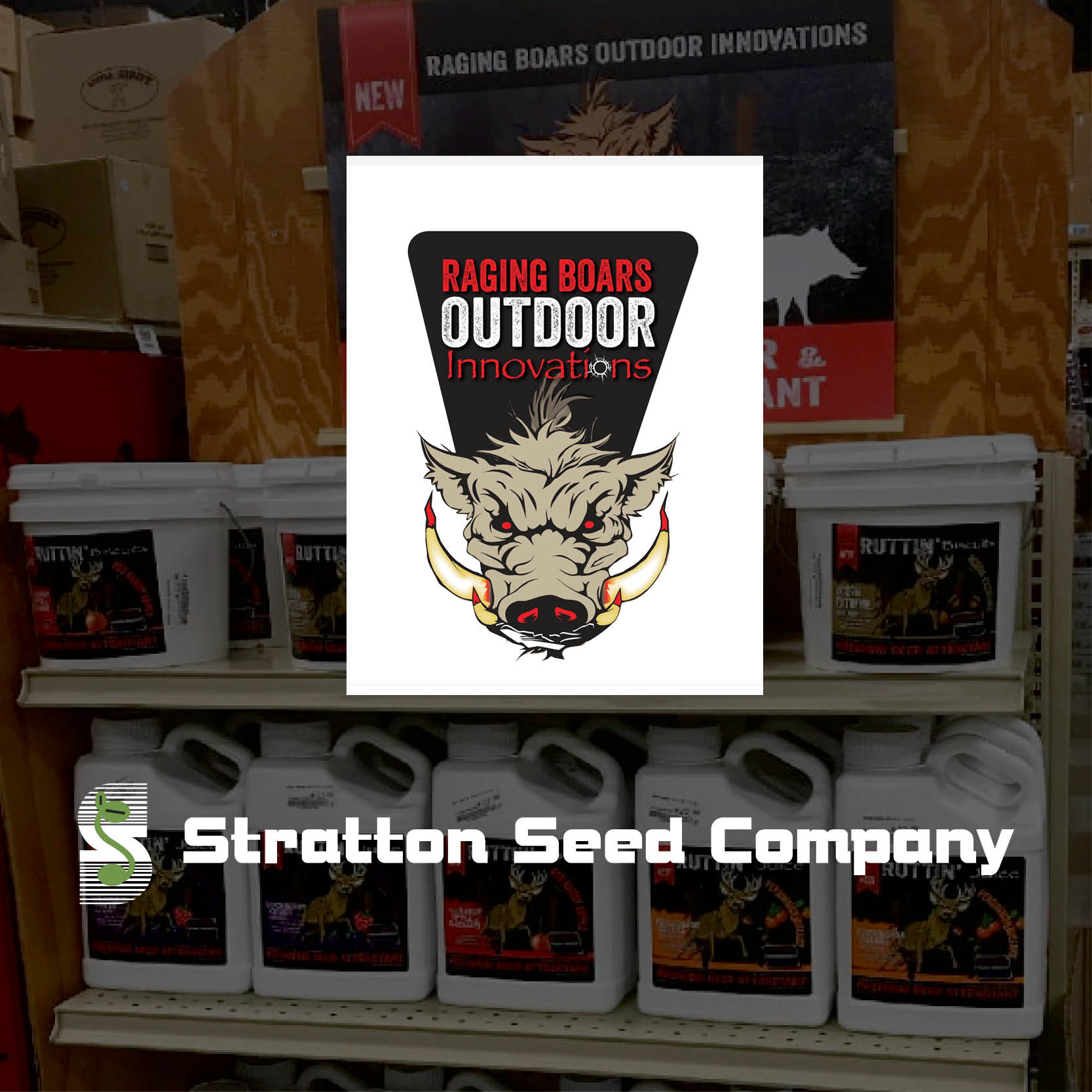 Stratton Seed is thrilled to announce our partnership with Raging Boars Outdoor Innovations in the Mid-South. Raging Boars produces game-changing attractants specifically designed to bring hogs and deer to your land – and keep them coming back for more!
As a distributor, we'll be offering Raging Boars attractants alongside our premium blends to bring you the best of the best. We take great pride in providing outdoorsmen with premium field-tested products that lead to successful hunts today and far into the future.
With this addition to our wide array of wildlife blends, finding the right mix for your hunting goals has never been easier! Take a look at our new selection to see what products are best for you and your hunting strategies:
Boar Butter
A thick peanut butter and jelly-like consistency designed to be spread across logs, rocks and existing vegetation. Boars will come from near and far in hot pursuit of this mouthwatering sludge. Once they reach your bait site, they're sure to hang around for extended periods of time. Available in 7 flavors.
MOAB – Mother of All Boar Baits
This nutrient-packed bait bag is made to be buried a foot below ground level, keeping hogs occupied for hours and even days at a time as they dig it up. It can also be placed aboveground as a scent wick that the boars must rupture in order to access its contents. The irresistible flavors linger in the area long after the bulk of it has been eaten.
Ruttin' Juice / Rootin' Juice
This great product comes in two lines - Ruttin', for deer, and Rootin', for boar. It's perfect for pouring over the ground, stumps, logs or vegetation to create a complete bait site. Unlike similar products on the market, Ruttin'/Rootin' Juice is not adversely affected by rain. Because of its intense thickness, rainwater only spreads the mix across the ground and lasts for weeks on end. Of the 5 available flavors, the hogwalla supreme is a fan-favorite, with its stinky cheese scent being detected by wildlife far off in the distance.
Boar Biscuits
A thick, chunky trail mix blend loaded with almonds, peanuts, cashews and corn that wild game simply can't resist. This gourmet dinner for hogs contains high levels of healthy proteins, fats and carbohydrates that will sustain your wildlife in the winter. Throw out just a few handfuls along with corn or one of our other attractants and let the games begin!
To get in on these new products, give your local Stratton Seed rep. a call or find a dealer near you today!