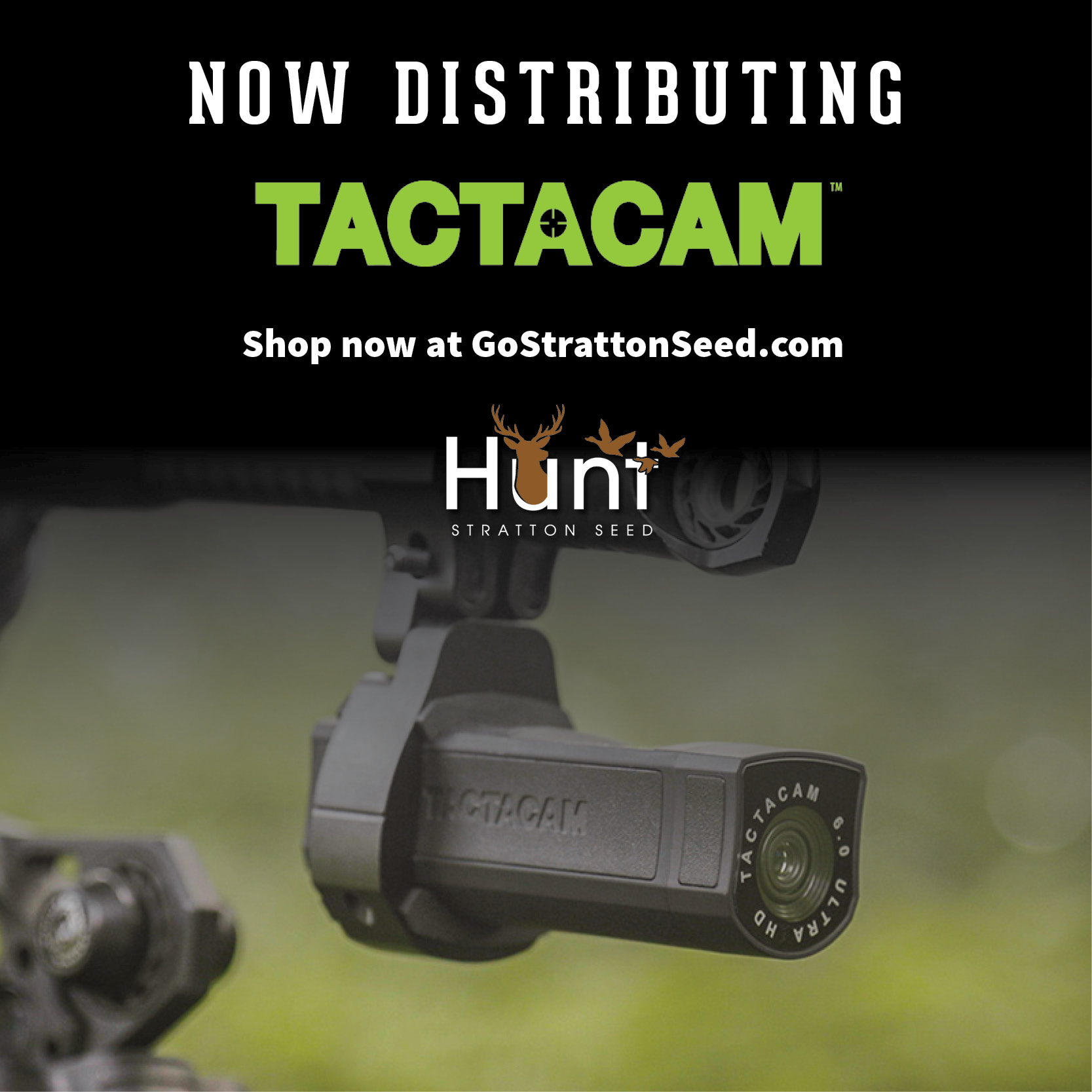 Stratton Seed is proud to announce a new partnership with Tactacam, creator of the best-in-class hunting cameras. We are now a distributor and reseller of the Tactacam 6.0 and Reveal X cellular cameras, offering our customers the ultimate POV footage and scouting tools.
Tactacam's products offer outdoorsmen high-quality images of the big moments we cherish and hold onto forever. Reliable and affordable, these cameras are also easy to set up and use, allowing you to avoid onboarding headaches and get straight to the hunt.
Tactacam 6.0
The Tactacam 6.0 allows you to capture your hunting experience in a perspective that's unbelievably close to what's seen by the human eye – it's as if you're there reliving the hunt in person.
This cutting-edge device not only records In 4k at 60fps, but also features new image stabilization tech that takes the "shock" out of your shot. Seamlessly secure it to your rifle or crossbow with the under scope mount, onto a ladder stand shooting rail with the clamp mount, or in a variety of other positions with the collection of available mount attachments.
When opportunity strikes and a buck passes your stand, there's no time to look down and fumble with settings on a screen. With the Tactacam 6.0, simply press one button to power on and start recording the action – it's that easy.
Choose between 3 different shooting modes on a touchscreen display, including 8x zoom and slow motion to create your own personalized cinematic experience. The ultra-high-quality lens and low-light sensor ensure that you'll be getting top-of-the-line quality footage to watch and share.
Not to mention, the battery lasts for a whopping 2.5 hrs, can be charged via micro-USB, and comes with a removable rechargeable pack.
Additional game-changing specs:
- Accommodates a micro SD card (64-128GB)
- Waterproof (up to 30 ft)
- Wi-fi connection generated from the cam to pair with the app on your phone
- Remote control also available for purchase
- Compact, sturdy design is great on the go
Reveal X-Pro and Gen 2.0
Take stock of the wildlife on your land with Tactacam's Reveal cameras. The X-Pro and Gen 2.0 are cellular trail cameras that capture HD footage of the action on your property both day and night. With ½ second trigger speeds on the motion sensors, nothing will pass through undetected.
No glow IR technology eliminates all visible flash to avoid spooking deer, but still illuminates up to 80 ft at night and detects movement at distances of 96 ft. Additionally, these devices are small and discreet, though robust enough to handle extreme weather conditions.
The Reveal X-Pro and Gen 2.0 are not only effective tools for tracking game, but are also great for home security. Whether you're looking to protect assets on the outer edges of your ranch or even your family around your home, Reveal cams have you covered.
Both Reveal models operate on AT&T or Verizon Nationwide LTE/4G Networks, allowing you to check in on your food plots, feeders, and other high-traffic areas in real-time. Simply open up the Reveal app on your smartphone and see who's been passing through. Moreover, a built-in GPS allows you to always know exactly where you set up the cam on your property.
Additional game-changing specs:
- Built-in LCD screen and touchpad for easy camera adjustments
- Strap mount allows for seamless positioning on a tree or stand
- IP66 waterproof certified
- Compatible with 16-32GB SD card
- Powered by 12 AA batteries or solar panel (built-in external port)
- Uploads thumbnail images with HD image requests (Additional data charges may apply)
- Month-to-month data plans through Tactacam
Now your fondest memories and key strategic moments can be relived in HD with the simple click of a button.
Tactacam cameras and accessories are available for purchase on our online store. Products are also available to dealers through Stratton Seed.